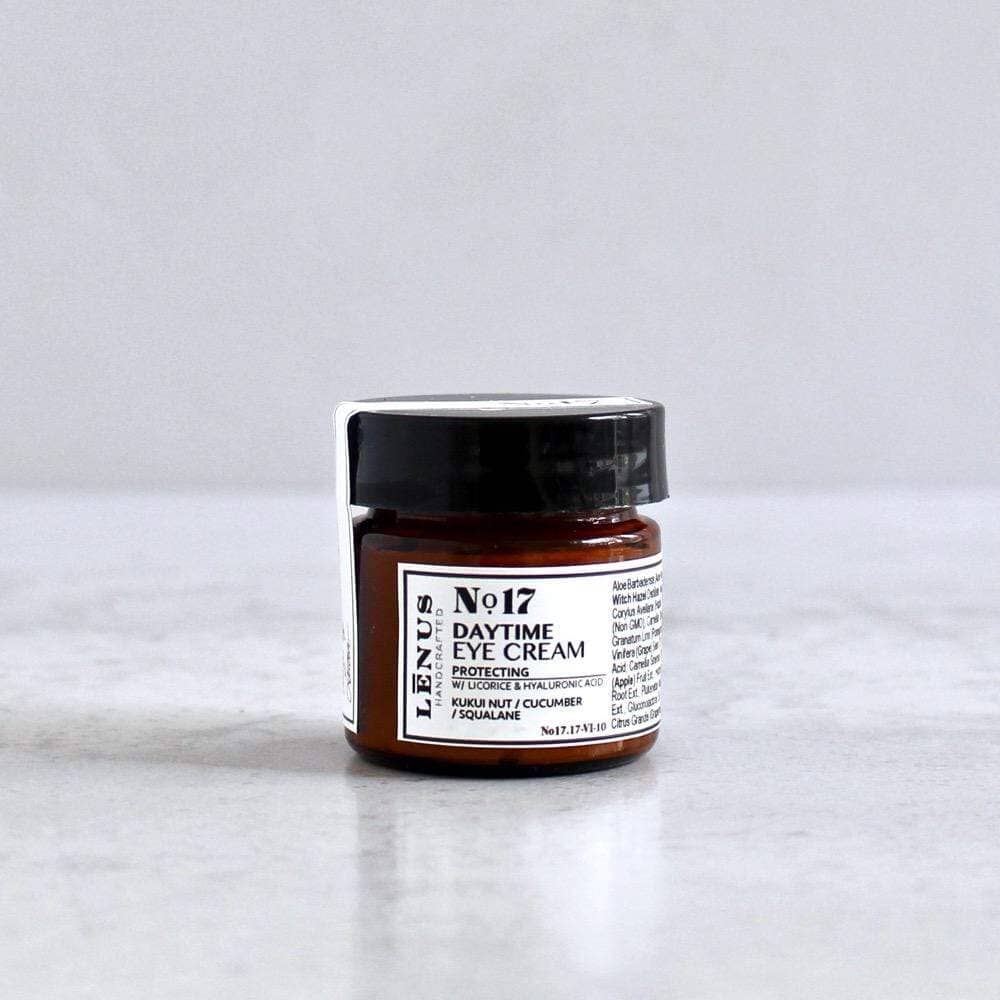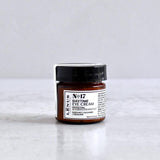 Nọ 17 DAY EYE CREAM W/ SQUALANE | PROTECTANT
$ 32.00
LĒNUS Nọ17 Day Eye cream is moisturizing, nourishing and protecting. Crafted with hyaluronic acid, licorice and green tea extracts, cucumber and pomegranate oils as well as precious olive squalane this formula is designed to naturally reduce inflammation and puffiness and smooth out the fine crow's feet wrinkles around your eyes. Use it under your makeup daily to keep your skin hydrated and delay wrinkle formation caused by sun and environmental exposure.

LĒNUS Nọ17 DAY EYE CREAM W/ SQUALANE | PROTECTANT
[ KUKUI NUT / CUCUMBER / SQUALANE ]

This smooth cream is filled with nutrient-rich fresh botanical oils including hawaiian kukui nut, pomegranate, cucumber and green tea plant seed oil known as camellia. Moisturizing and nourishing, this formula keeps the skin around the eyes supple all day. It includes natural SPF from carrot and red raspberry seed oils that provide sunscreen properties. Antioxidant UV filtering ingredients like green tea and baobab play an important role in skins natural ability to fight sun damage. Precious cucumber seed with olive squalane are natural source of Vitamin K known to improve circulation around the eyes often associated with dark circles. Vitamin-C rich pomegranate seed oil along with olive squalene support and protect skin cells against environmental damage. This artisan formula is loaded with fresh organic ingredients is also infused with powerful peptides to create possibly the best natural eye cream you'll come across!

PRODUCTS ATTRIBUTES:
✔ Light, yet nourishing
✔ Helps with dark circles
✔ Subtle essential oil aroma blend
✔ Emulsified with aloe vera juice, not water

ESSENTIAL OILS BLEND: PROTECTING / REGENERATING
Lavender | Myrrh | Sandalwood | Carrot Seed | Cypress | Clary Sage | Chamomile | Frankincense | Helichrysum | Tangerine

SUGGESTED ROUTINE: Apply after No69 Gentle Cleanser and No70 Moisturizing Toner on the skin all around your eyes. Avoid actual eye area.
CONTAINS NUTS | FRAGRANCE FREE

Key Ingredients:
KUKUI NUT OIL | Soothing, Regenerating, Anti-Aging, Absorbing
HYALURONIC ACID | Anti-Oxidant, Anti-Aging, Regenerating, Moisturizing
OLIVE SQUALANE | UV Protection, Quick Absorbing, Anti-Oxidant
HEXAPEPTIDE | Anti-Aging, Dark Circles, Puffy Eyes, Under-eye Bags
ROSE HYDROSOL | Anti-Inflammatory, Redness Reducing, Soothing
GOTU KOLA | Regenerating, Skin Repairing, Anti-Aging, Collagen Support
RED RASPBERRY OIL | Antioxidant, Sun Protectant (oil SFP up to 50)
CAMELLIA | Vitamins A+B+E, Anti-Oxidant, Anti-Aging
HAZELNUT | UV Protection (SPF 15), Sebum Balancing
WITCH HAZEL | Anti-Bacterial, Soothing, Skin Healing
ALOE VERA | Moisturizing, Soothing, Healing, Anti-Inflammatory
CUPUACU | Anti-Aging, Regenerating, Softening
BABASSU | Anti-Inflammatory, Anti-Irritant, Emollient, Soothing
BAOBAB PROTEIN | UV Protectant, Soothing, Amino Acid Rich
CUCUMBER SEED OIL | Refreshing, UV Protectant, Anti-Oxidant, Toning
FRANKINCENSE | Regenerating, Anti-Aging, Anti-Scarring, Healing
CHAMOMILE | Anti-Inflammatory, Skin Healing, Calmative
CARROT SEED | Anti-Aging, Anti-Wrinkle, Regenerating, Toning
MYRHH | Anti-Inflammatory, Skin Healing, Anti-Oxidant
SANDALWOOD | Calmative, Scar Healing, Skin Toning, Anti-Aging
HELICHRYSUM | Regenerating, Scar Fading, Moisturizing, Healing
Aloe Barbadensis (Aloe Vera) Leaf Juice*, Rosa Damascena (Rose) Flower Distillate, Witch Hazel Distillate, Aleurites Moluccana (Kukui) Nut Oil*, Cucumis Sativus (Cucumber) Oil, Corylus Avellana (Hazelnut) Seed Oil*, Theobroma Grandiflorum (Cupuacu) Butter*, Daucus Carota (Carrot) Seed Oil, Vegetable E-Wax (Non GMO), Punica Granatum Linn (Pomegranate) Oil*, Camellia Oleifera (Camelia) Seed Oil*, Orbignya Oleifera (Babassu) Seed Oil*, Olive Squalane, Rubus Idaeus (Red Raspberry) Seed Oil, Hexapeptide-11, Aspalathus Linearis (Rooibos) Extract, Sodium Hyaluronic Acid SLMW, Vegetable Glycerin NON-GMO, Ananas Sativus (Pineapple) Fruit Extract, Camellia Sinensis (Green Tea) Ext., Hydrolyzed Adansonia Digitata (Baobab) Seed Protein, Arctostaphylos Uva-ursi (Bearberry) Ext., Glycine Betaine (Beta vulgaris (Beet) Sugar Extract, Macrocystis Pyrifera (Sea Kelp) Ext., Gluconolactone SB (Eco-Cert), Tocopherol (Vitamin-E), D-panthenol (Vitamin B), Citrus Grandis (Grapefruit) Seed Ext., Rosemary CO2 Ext., Essential Oils *ORGANIC
*Disclaimer: LENUS Handcrafted products has not been evaluated by the Food and Drug Administration. Products are not intended to diagnose, treat, cure, prevent any disease or cure any serious skin condition.
**Precaution: Be sure you are not allergic to any bee ingredients prior to ordering products containing with raw honey or beeswax.
***Precaution: Some Products contains NUT carrier oils, please check Ingredient List before ordering.
Related products