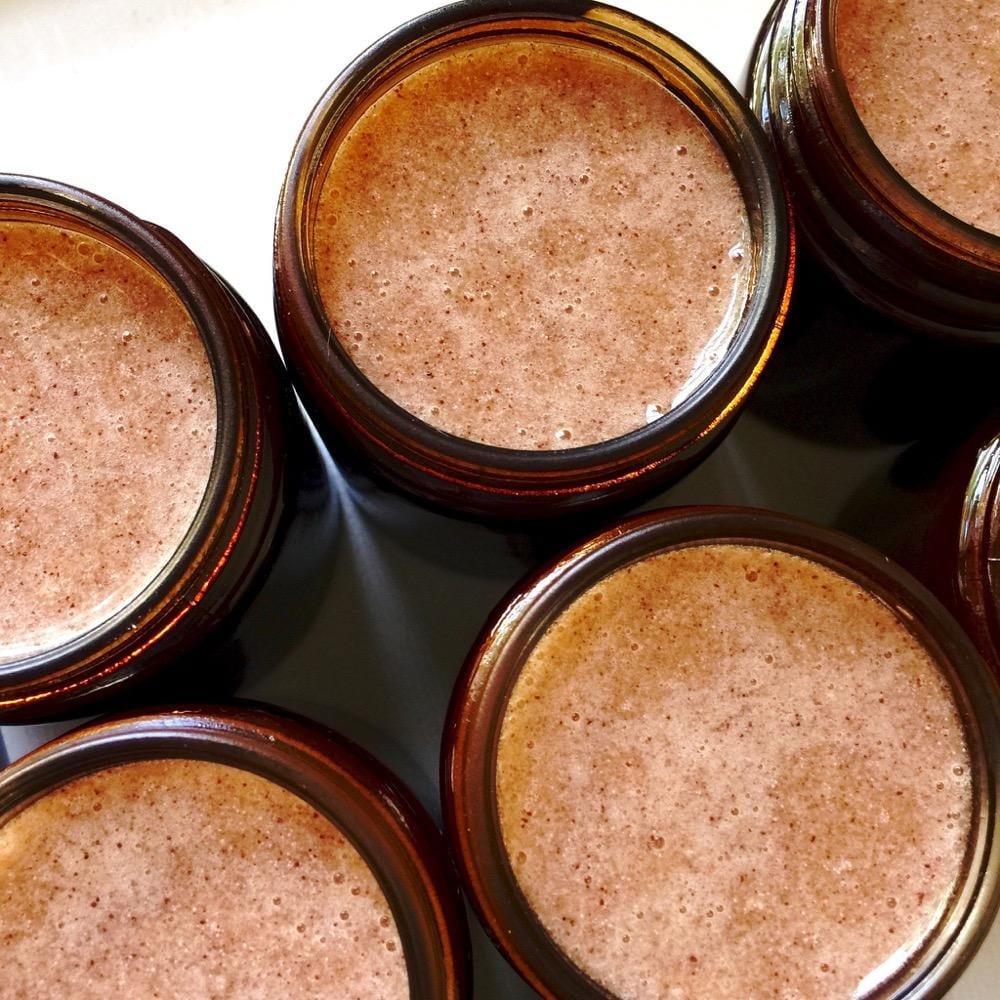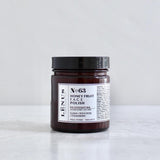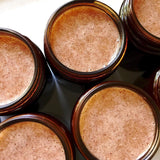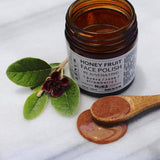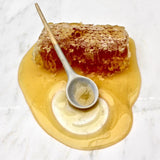 Nọ 63 HONEY FRUIT FACE POLISH / OIL FREE
$ 26.00
LĒNUS Nọ63 raw honey based resurfacing face polish with fruit extracts that is perfect for exfoliating oily and combination skin where traditional oil scrub may feel too rich. Raw organic honey along with vitamin rich fruit extracts are ultra moisturizing and help rejuvenate the skin by effectively removing dead skin cells. Raw honey contains bioactive elements that help relieve acne and cleanse the bacteria that cause acne.

Nọ63 HONEY FRUIT FACE POLISH / OIL FREE
[ GUAVA | ROSE | STRAWBERRY ]

Suitable for all skin types and especially beneficial for acne prone oily skin. Glycolic acid in the sugar, along with bamboo exfoliant, deeply cleanse the pores of dirt and melt away dry, old cells. Fruit extracts tone, brighten and freshen skin, while anti-inflammatory lavender essential oil soothes irritation and provides acne relief. Grape seed exfoliant helps with dark spots, provides natural vitamin C and effectively renews the skin's surface.

Face cleansing essential oils makes this formula a

blissful

aromatherapy experience.

Grapefruit seed and honeysuckle extracts have powerful anti-bacterial elements, which strengthen this scrub's anti-acne properties, providing natural relief.

PRODUCTS ATTRIBUTES:
• Fresh, sweet, natural fruit aroma
• Removes makeup and dirt build up
• Balances skin's sebum production

100% NATURAL:
NO Synthetic preservatives
NO Harsh chemicals
NO Synthetic colors
NO Synthetic fragrances
NO Sulfates
NO Mineral oils
NO Petro-chemicals
NO Animal testing

AROMATHERAPY BLEND: ANTI-ACNE / REFRESHING
Lavender | Rock Rose (Cistus) | Sweet Orange | Ylang Ylang | Cypress* | Mandarin*
Key Ingredients:

Ingredient List:
RAW HONEY | Anti-Inflammatory, Antiseptic, Anti-Bacterial, Pore-Cleansing
STRAWBERRY | Soothing, Pore Reducing, Vitamin C Rich, Anti-Oxidant
PAPAYA | Efoliating, Rejuvenating, Sebum Balancing, Vitamin A+C Rich, Anti-Oxidant
GUAVA | Anti-Oxidant, Vitamin A+B+C Rich, Anti-Aging
SUGAR | Rejuvenating, Cleansing, Fruit Acid Rich, Renewing, Exfoliating
ROSE | Anti-Inflammatory, Redness Reducing, Anti-Acne, Pore Cleansing
BAMBOO EXFOLIANT | Mineral Rich, Non-Irritating Deep Exfoliant, Cleansing
BENTONITE CLAY | Pore Cleansing, Healing, Irritation Reducing, Anti-Bacterial
DIATOMACEOUS EARTH | Detoxifying, Cleansing, Purifying, Exfoliating
GLYCERIN | Cleansing, Toning, Moisturizing, Lightening, Anti-Aging
GRAPE SEED | Deep Exfoliating, Regenerating, Skin Tightening, Anti-Dark Circles
RHUBARB ROOT | Hydrating, Moisturizing, Cell Supporting, Moisturizing
GRAPEFRUIT SEED EXTRACT | Anti-Bacterial, Anti-Fungal, Vitamin C Rich
WHITE WILLOW* | Astringent, Exfoliating, Anti-Inflammatory, Redness Reducing
CHAMOMILE | Anti-Inflammatory, Anti-Allergen, Skin Healing, Calmative
ROSEHIP | Vitamin C and Retinol Rich, Anti-Aging, Softening, Rejuvenating
LIQUID MINERALS | Toning, Nourishing, Refreshing, Anti-Aging
LAVENDER* | Nerve-Tonic, Anti-Acne, Cell-Healing, Anti-Wrinkle
ROCK ROSE | Anti-Aging, Skin Tightening, Toning, Grounding, Meditative
ORANGE | Anti-Inflammatory, Irritation Reducing, Anti-Acne, Dermatitis Relief
YLANG YLANG | Relaxant, Sedative, Anti-Infectious, Eczema Relief, Aphrodisiac
CYPRESS | Dark Spots Relief, Regenerating, Healing, Astringent, Clarifying
MANDARIN | Anti-Septic, Regenerating, Detoxifying, Relaxing, Healing, Moisturizing
Raw Wild Flower Honey*, Sucrose*, Vitis Vinifera (Grape) Seed Powder, Vegetable Glycerin (Non-GMO), Bambusa Arundinacea (Banslochan) Bamboo Exfoliating Powder, Kaolinite (White Clay), Rose Kaolinite(Rose Clay), Azomite Clay, Bentonite, Diatomaceous Earth, Salvia Hispanica L (Chia) Seed Extr.,Arctostaphylos Uva-Ursi (Bearberry) Leaf Powder., Rheum Rhaponticum (Rhubarb) Root Extract, Fragaria Vesca (Strawberry) Extr., Gluconolacctone SB (Eco-Cert Natural Preservative), Bentonite Clay, Carica Papaya (Papaya) Fruit Extr., Psidium Guajava (Guava) Extr., Glycyrrhiza Glabra (Licorice)Extract, Liquid Minerals, Salix Alba (White Willow) Extr., Vitis Vinifera (Grape) Seed Extr., Rosa Canina / Rosa Rubiginosa (Rose Hip) Extr., Lonicera Caprifolum (Honeysuckle) Extr., Lepidium Meyenii (Maca) Root Extr., Vitis Vinifera (Grape) Seed Extr., Citrus Grandis (Grapefruit) Seed Extr., Phyllostachys Glauca McClure (Bamboo) Extr., Cyamopsis Tetragonoloba (Guar) Gum, Essential Oils: Lavandula Angustofolia (Lavender) Cistus Ladaniferus (Rock Rose) Oil, Citrus Sinensis (Sweet Orange) Oil, Cananga Odorata (Ylang Ylang), Cupressus Sempervirens (Cypress) Oil*, Citrus Reticulata (Mandarin) Oil*, etc. *ORGANIC
*Disclaimer: LENUS Handcrafted products has not been evaluated by the Food and Drug Administration. Products are not intended to diagnose, treat, cure, prevent any disease or cure any serious skin condition.
**Precaution: Be sure you are not allergic to any bee ingredients prior to ordering products containing with raw honey or beeswax.
***Precaution: Some Products contains NUT carrier oils, please check Ingredient List before ordering.
Related products