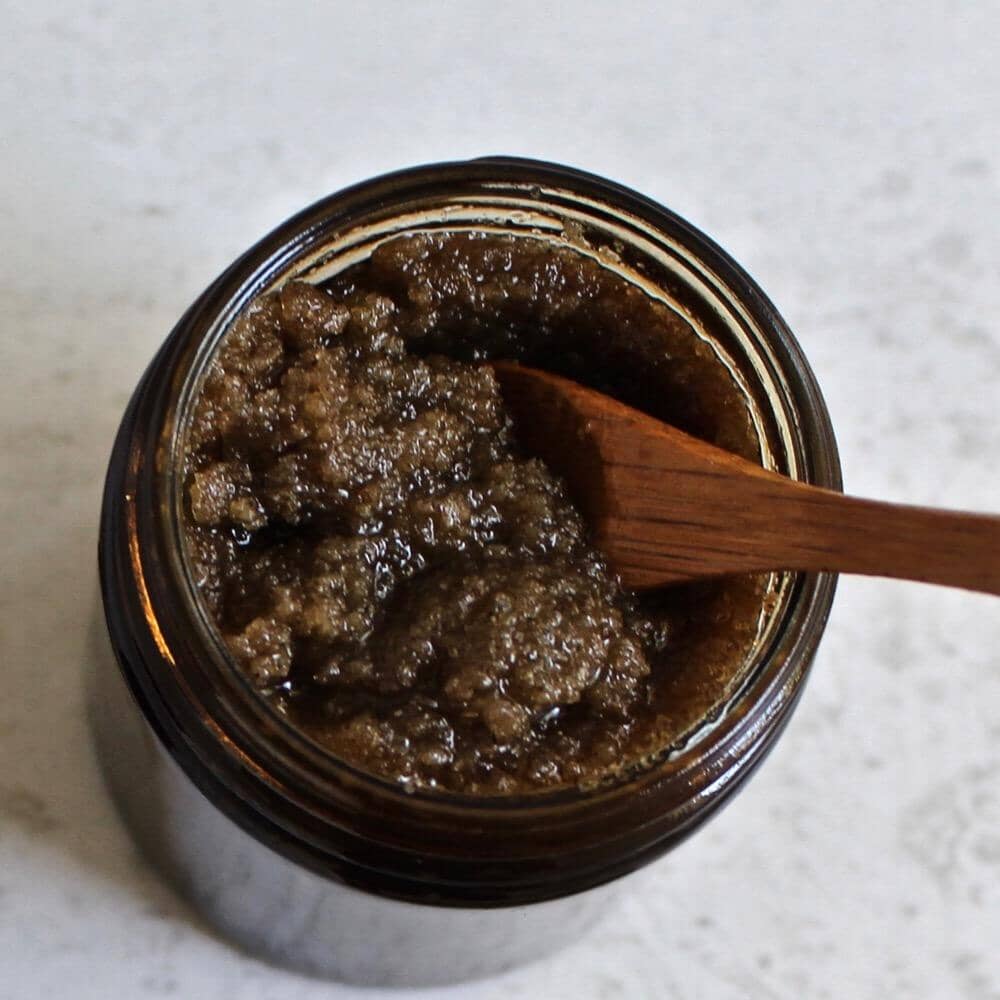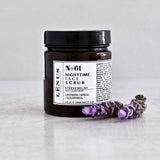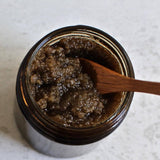 Nọ 61 NIGHTTIME FACE SCRUB | NOURISHING
$ 20.00
LĒNUS Nọ61
face scrub is a is a
calming and rejuvenating sugar face scrub comprised of organic carrier oils, herb powders, essential oils, indian healing clay and a touch of Himalayan pink salt. It naturally purifies pores, dissolves dirt build-up and nourishes skin while the relaxing essential oil blend calms and de-stresses.
LĒNUS Nọ61 NIGHTTIME FACE SCRUB / NOURISHING
[ LAVENDER | NEROLI | GOLDENSEAL ]

This scrub is suitable for all skin types and is especially beneficial for acne-prone and oily skin. Glycolic acid in the sugar and honey along with jojoba and castor oils oil deeply cleanse the pores of dirt build-up and gently melt away dry, aged cells. Anti-inflammatory essential oils and herbs soothe irritation and provide acne relief. Botanical powders including lavender, myrrh and precious goldenseal are prized for their skin healing properties. This multipurpose anti-aging face scrub cleanses away makeup and rejuvenates all skin types. Additionally calming essential oil aromatherapy blend of relaxing neroli, calming lavender, stress relief Melissa and soothing chamomile prepare you for a good night's rest.
Relaxing / sleep aid essential oil aroma

PRODUCT ATTRIBUTES:
✔ Suitable for all skin types
✔ Removes make-up and dirt build up
✔ Balances skin's sebum
✔ Fragrance oil free
✔ Pleasant essential oil aroma scent

ESSENTIAL OIL BLEND: CLEANSING / SLEEP AID
Lavender | Neroli | Bergamot | Chamomile | Sandalwood | Sweet Fennel | Ylang-Ylang | Rose Geranium | Melissa Leaf | Cypress | Clary Sage | Myrrh
Key Ingredients:

Ingredient List:
LAVENDER | Nerve-Tonic, Anti-Acne, Cell-Healing, Anti-Wrinkle
GOLDENSEAL | Natural Disinfectant, Skin Healing, Pore-Minimizing
COMFREY | Anti-Inflammatory, Healing, Emollient, Astringent
BENTONITE | Deep Pore Cleansing, Mineral Rich, Anti-Aging
MYRHH | Anti-Inflammatory, Skin Healing, Anti-Oxidant
JOJOBA | Moisturizing, Anti-Wrinkle, Skin-Penetrating, Cleansing
COCONUT | Emollient, Anti-aging, Anti-Wrinkle, Soothing
GRAPE SEED | Regenerating, Skin Tightening, Anti-Dark Circles
CASTOR | Deep Cleansing, Skin-Protecting, Anti-Acne, Anti-Inflammatory
NEROLI | Anti-Anxiety, Relieves Insomnia, Anti-Stress, Antiseptic
CHERRY KERNEL | Vitamin A+E, Skin Smoothing, Irritation Reducing
APRICOT KERNEL | Anti-Bacterial, Anti-Inflammatory, Anti-Aging
GRAPEFRUIT SEED | Anti-Bacterial, Disinfectant, Vitamin C Rich
ROSEMARY | Powerful Anti-Oxidant, Antimicrobial, Preservative
VITAMIN E | Anti-Oxidant, Skin Repairing, UV Protectant, Regenerating
BERGAMOT | Anti-Acne, Astringent, Anti-Infectious, Anti-Bacterial
SWEET FENNEL | Anti-Oxidant, Protectant, Brightening, Anti-Septic
CHAMOMILE | Anti-Inflammatory, Anti-Allergen, Skin Healing, Calmative
SANDALWOOD | Calmative, Anti-Inflammatory, Scar Healing, Anti-Aging
YLANG YLANG | Relaxant, Sedative, Anti-Infectious, Aphrodisiac.
SODIUM BICARBONATE | Exfoliating, Anti-Acne, Brightening, Cleansing
CYPRESS | Dark Spots Relief, Regenerating, Healing, Astringent, Clarifying
GERANIUM | Sebum Balancing, Moisturizing, Regenerating, Anti-Acne
MELISSA LEAF | Sedative, Insomnia / Stress / Anxiety Relief
Sucrose (Sugar)*, Simmondsia Chinensis (Jojoba) Seed Oil*, Cocos Nucifera (Coconut) Oil*, Ricinus Communis (Castor) Seed Oil*, Citrus Paradisi (Grapefruit) Seed Oil*, Vitis Vinifera (Grape) Seed Oil*, Lavandula Officinalis (Lavender) Bud Powder*, Sodium Bicarbonate (Baking Soda) Powder, Emblica Officinalis (Amla) Fruit Powder, Sodium Chloride (Hymalayan Salt), Persea Gratissima (Avocado) Oil*, Prunus Avium (Cherry) Kernel Oil*, Bentonite Clay, Commiphora Myrrha (Myrrh) Powder*, Bambusa Arundinacea (Banslochan) Bamboo Exfoliating Powder, Simmondsia Chinensis (Jojoba) Seed Powder, Vitis Vinifera (Grape) Seed Powder*, Symphytum Officinale (Comfrey) Root Powder*, Arctostaphylos Uva-ursi (Bearberry) Powder, Hypericum Perforatum (St. John's Wort), Hydrastis Canadensis (Goldenseal)*, Populus Tremuloides (Aspen) Bark Extract, Rosa Canina / Rosa Rubiginosa (Rose Hip) Seed Powder*, Chamaemelum Nobile (Roman Chamomile) Oil, Rosmarinus Officinalis (Rosemary) Leaf Extract*, Glycyrrhiza Glabra (Licorice) Extract, Chrysanthemum Parthenium (Chrysanthemum) Extract, Tocopherol (Vitamin-E), Essential Oils: Lavender, Cypress, Chamomile, Neroli, Sandalwood, Rose Geranium, Peppermint               *ORGANIC     
*Disclaimer: LENUS Handcrafted products has not been evaluated by the Food and Drug Administration. Products are not intended to diagnose, treat, cure, prevent any disease or cure any serious skin condition.
**Precaution: Be sure you are not allergic to any bee ingredients prior to ordering products containing with raw honey or beeswax.
***Precaution: Some Products contains NUT carrier oils, please check Ingredient List before ordering.
Related products