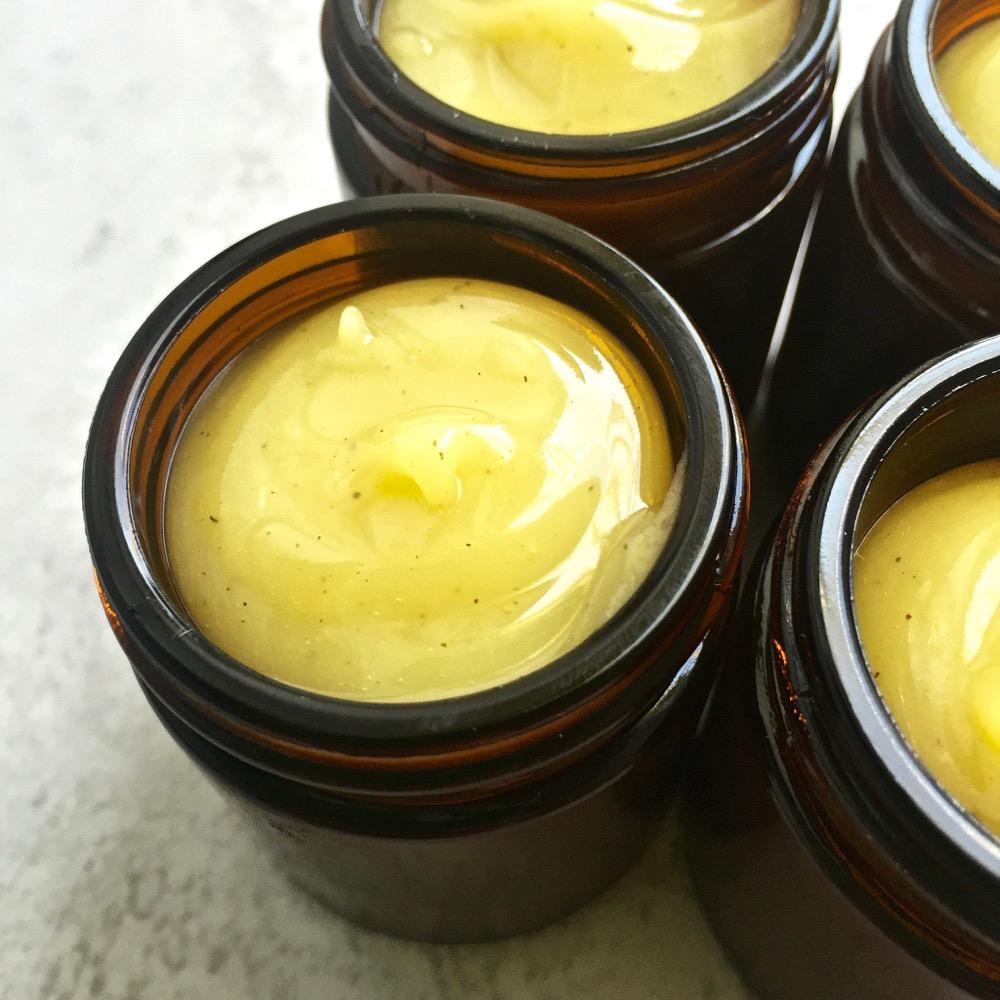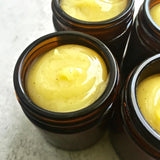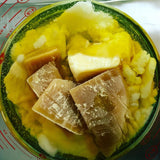 Nọ 02 ALL PURPOSE SKIN BALM / GLUTEN FREE
$ 22.00 $ 0.00
LĒNUS Nọ02 All Purpose balm is your go to product for any skin condition associated with dryness and sensitivity, as well as a great product to help maintain areas with tattoos. This healing balm formula is the most complex blend of botanical ingredients that includes oils known for skin regenerating properties. Use this luxurious rich balm to nourish dry or healing skin, moisturize wound scabs to minimize scars while the skin is healing. 

LĒNUS Nọ02 HEALING BALM / ALL PURPOSE SKIN BALM
[ TAMANU | YARROW| GOLDENSEAL ]

Crafted with cold healing calendula and moringa, exotic baobab and raw sea buckthorn oils this balm is will delivers powerful botanicals while replenishing the skin. Tamanu and Black Cumin Seed oils are known for their scar healing properties in traditional medicine. The balm is an all natural alternative to Vaseline - a petroleum product typically use alleviate the scars caused by healing calluses and scabs. 

Essentials oils in this formula are selected mainly for their skin healing properties. The blend is subtle, warm and comforting. Sweet Peru Balsam, comforting Yarrow, multipurpose Lavender and Chamomile among others create a comforting scent irresistible for any age. Kids will enjoy a naturally mildly sweet aroma while you take care of their healing scars.

PRODUCTS ATTRIBUTES:
• Cold Pressed CO2 Extracts
• Light essential oil aroma
• Cold pressed organic oils and butters
• Healing Botanicals
• Enriched with Vitamin E

ESSENTIAL OILS BLEND: UPLIFTING / ANTI-AGING
Chamomile | Lavender | Yarrow | Sweet Orange | Peru Balsam | Myrrh | Rosemary | Calendula | Tea Tree
SUGGESTED ROUTINE: Apply on the skin as often as needed to moisturize the scabs and dry areas.
STORAGE: Keep out of extreme heat (80F, 27C).

NUT FREE | CONTAINS BEESWAX | FRAGRANCE FREE 
Key Ingredients:

Ingredients:
APRICOT KERNEL | Anti-Bacterial, Anti-Inflammatory, Anti-Aging, Moisturizing
KOKUM | Essential Fatty Acid Rich, Regenerating, Vitamin E Rich
SEA BUCKTHORN | Nutrient Rich, Vitamins A+C+ E, Anti-Inflammatory
JOJOBA | Penetrating, Moisturizing, Anti-Inflammatory
BAOBAB |  Anti-Aging, Anti-Oxidant, UV Protectant, Vitamin A, E F Rich
MORINGA | Anti-Inflammatory, Skin Healing, Anti-Oxidant, Wrinkle Reducing, Anti-Bacterial
CHERRY KERNEL | Vitamin A+E, Moisturizing,  Smoothing, Irritation Reducing
BORAGE SEED | Deep Repairing, Skin Smoothing, Healing
BLACK CUMIN | Anti-Inflammatory, Cleansing, Regenerating, Moisturizing
SHEA BUTTER | Moisturizing, Vitamin A Rich, Anti-Wrinkle, Regenerating
BABASSU  | Anti-Inflammatory, Anti-Irritant, Emollient, Soothing
HEMP | Omega 6+9, Anti-Inflammatory, Anti-Acne, Regenerative, Vitamin Rich
CUPUACU | Exotic, Anti-Aging, Regenerating, Softening
EVENING PRIMROSE | Nourishing, Regenerating, Anti-Inflammatory
AVOCADO | Vitamin Rich, Anti-Inflammatory, Soothing, Nourishing
VITAMIN E | Repairing, Anti-Oxidant, Anti-Inflammatory, Protecting
YARROW | Anti-Inflammatory, Anti-Septic, Skin Toning, Soothing
LAVENDER | Calmative, Anti-Acne, Cell-Healing, Anti-Wrinkle, Soothing
CALENDULA | Skin Soothing, Anti-Inflammatory, Anti-Fungal, Anti-Irritating
TANGERINE | Anti-Septic, Regenerating, Detoxifying, Relaxing, Scar Healing
ROSEMARY | Anti-Infectious, Anti-Bacterial, Skin-Healing, Stress Relief
CHAMOMILE | Anti-Inflammatory, Anti-Allergen, Skin Healing, Calmative
Cocos Nucifera (Coconut) Oil*, Prunus Avium (Cherry) Kernel Oil*, Raw Beeswax,Prunus Armeniaca (Apricot) Kernel Oil (Infused w/ Chickweed&Calendula)*, Moringa Oleifera (Moringa) Seed Oil*,Simmondsia Chinensis (Jojoba) Seed Oil, Persea Gratissima (Avocado) Oil*,Oenothera Biennis (Evening Primrose) Oil*, Cannabis Sativa (Hemp) Seed Butter*, Theobroma Grandiflorum (Cupuacu) Butter*, Adansonia Digitata (Baobab) Seed Oil Borago Officinalis (Borage) Seed Oil*, Orbignya Oleifera (Babassu) Seed Oil*, Butyrospermum Parkii (Shea) Fruit Butter*, Nigella Sativa (Black Cumin) Seed Oil*,Calophyllum Inophyllum (Tamanu) Oil*, Passiflora Edulis (Passionfruit) Seed Oil*,Garcinia Indica (Kokum) Seed Butter*, Hippophae Rhamnoides (Sea Buckthorn) Fruit Oil, Polyglycerol-3 Beeswax (Cera Belinna),Calendula Officinalis (Calendula Flower) Oil, Chamaemelum Nobile (Roman Chamomile) Extr., Hydrastis Canadensis (Goldenseal) Powder*, Tocopherol (Vitamin-E), Rosmarinus Officinalis (Rosemary) Leaf Extr.*, Essential Oils: Yarrow, Chamomile, Lavender, Sweet Orange, Bergamot (FCF), Lemon Eucalyptus, Palmarosa, Clove, Eucalyptus, Tea Tree, Rosemary, Calendula, Myrrh, Calendula       *ORGANIC 
*Disclaimer: LENUS Handcrafted products has not been evaluated by the Food and Drug Administration. Products are not intended to diagnose, treat, cure, prevent any disease or cure any serious skin condition.
**Precaution: Be sure you are not allergic to any bee ingredients prior to ordering products containing with raw honey or beeswax.
***Precaution: Some Products contains NUT carrier oils, please check Ingredient List before ordering.
Related products