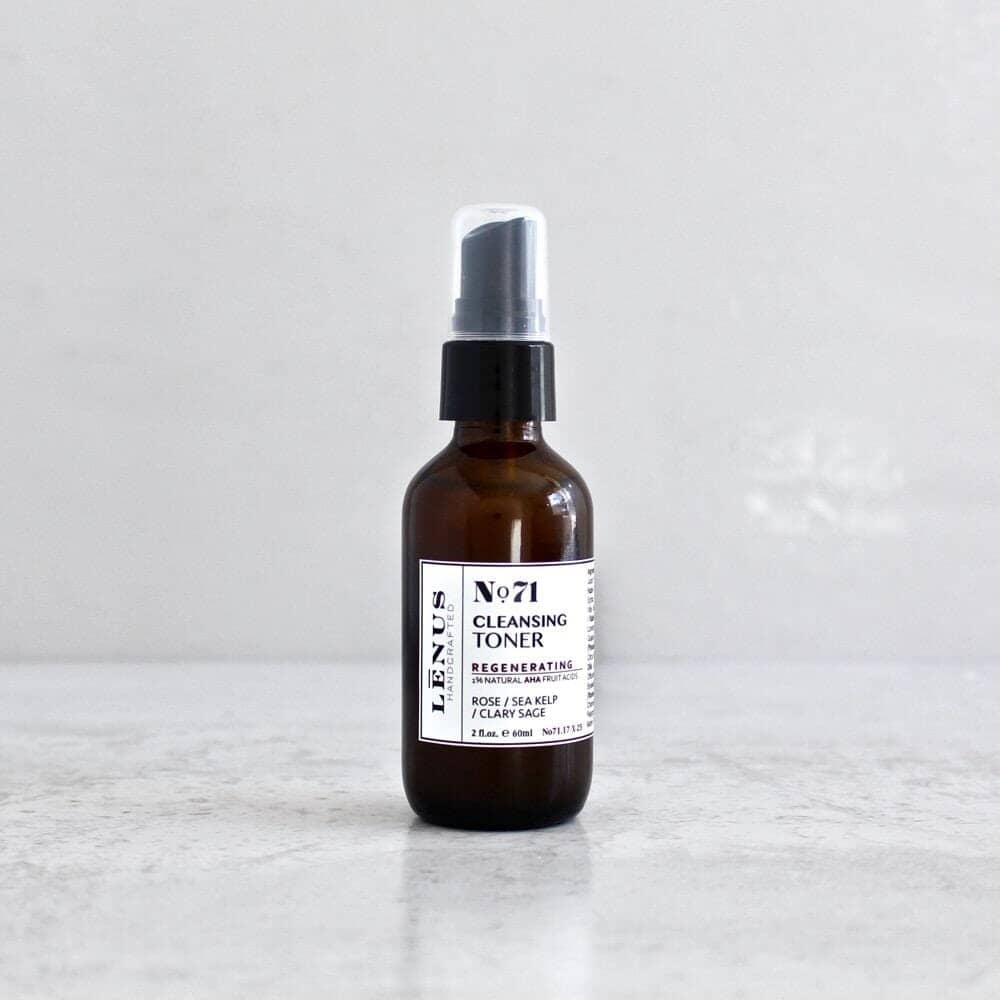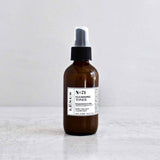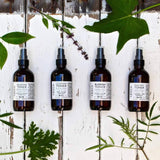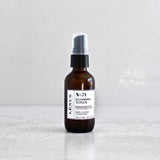 Nọ 71 CLEANSING TONER W/ AHA FRUIT ACIDS
$ 16.00
LĒNUS Nọ71 cleansing toner is a blend of powerful botanical extracts,
hydrosols, witch hazel and 1% fruit acids that help dissolve dead skin cells keeping the skin looking youthful. Use it to ensure the skin is completely clear of make up at night or spritz to balance PH levels after face wash.

LĒNUS Nọ71 CLEANSING TONER W/ FRUIT ACIDS
[ ROSE / SEA KELP / CLARY SAGE ]

The essential oils blend is anti-aging, mood balancing and stress relief, perfect aromatherapy experience for nighttime routine; it's a unique combination of high notes of lavender, rosewood and clary sage with earthy tones of cypress, frankincense and rosemary. Nourishing sea kelp, rejuvenating rose and calming clary sage are blended with aloe vera juice in this water free blend. This cleaning toner is packaged in a convenient spritzer bottle. This product is preserved with natural radish root ferment and honeysuckle extract.

PRODUCTS ATTRIBUTES:
✔ Cleansing and rejuvenating
✔ Calming stress relief aromatherapy
✔ 1% AHA (fruit acid) for deeper cleansing

ESSENTIAL OIL BLEND: STRESS RELIEF / SEBUM BALANCING
Lavender, Clary Sage, Rosewood, Frankincense, Pennyroyal, Geranium, Yarrow, Palmarosa, Chamomile, Cypress, Rosemary, Melissa Leaf
SUGGESTED USE: To use as a makeup remover, first cleanse the face with No69 Creamy Face Cleanser, No98 Oil Cleanser or Clay Powders then generously apply the No71 toner and wipe face clean with a cotton ball or hot wash cloth to ensure that all makeup residue is gone. To use as a nighttime toner, spritz your face after washing it and enjoy the calming aroma.
Key Ingredients:

Ingredient List:
FRUIT ACID AHA | Regenerating, Deep Cleansing, Rejuvenating
ALOE VERA | Moisturizing, Soothing, Healing, Anti-Inflammatory
ROSE | Anti-Inflammatory, Irritation Reducing, Acne Relief
BAMBOO | Mineral Rich, Moisturizing, Smoothing, Strengthening
MULBERRY | Brightening, Uneven Skin Tone Relief, Age Spots
FRUIT ACID AHA | Regenerating, Deep Cleansing, Rejuvenating
WITCH HAZEL | Anti-Bacterial, Anti-Acne, Anti-Inflammatory
GRAPEFRUIT SEED| Anti-Bacterial, Anti-Fungal, Vitamin C Rich
HONEYSUCKLE | Preservative, Anti-Bacterial, Anti-Inflammatory
OLIVE LEAF | Anti-bacterial, Soothing, Anti-Inflammatory, Anti-Ageing
GLYCERIN | Cleansing, Toning, Moisturizing, Anti-Aging
LAVENDER | Stress Relief, Anti-Septic, Anti-Inflammatory
ROSEWOOD | Rejuvenating, Relaxing, Nerve Tonic
CLARY SAGE | Anti-Inflammatory, Balancing, Anti-Aging
GERANIUM | Sebum Balancing, Regenerating, Anti-Acne
NEROLI | Anti-Aging, Emollient, Anti-Bacterial, Sebum Balancing
CHAMOMILE | Anti-Inflammatory, Anti-Allergen, Healing
PENNYROYAL | Balancing, Refreshing, Cell Stimulating
FRANKINCENSE | Regenerating, Anti-Aging, Healing
PALMAROSA | Tissue-Healing, Hydrating, Anti-Bacterial
CYPRESS | Dark Spots Relief, Regenerating, Astringent
ROSEMARY | Anti-Bacterial, Skin-Healing, Anti-Acne
MELISSA LEAF | Insomnia / Stress / Anxiety Relief
Aloe Barbadensis (Aloe Vera) Leaf Juice*, Rosa Centifolia (Rose) Flower Water, Witch Hazel Distillate, Salvia Sclarea (Clary Sage) Distillate, Arctium Lappa (Burdock) Root Extract, orus Alba Root (Mulberry) Extract, Arctostaphylos Uva-ursi (Bearberry) LeafExtract*, Macrocystis Pyrifera (Sea Kelp) Extract, Salix Alba (White Willow) Extract, Leuconostoc / Radish Root Ferment Filtrate (Leucidal Liquid), Vegetable Glycerin (Non-GMO), Fiscus Carica (Fig) Extract, AHA Fruit Acids, Vitis Vinifera (Grape) Seed Extract, Liquid Minerals, Citrus Grandis(Grapefruit) Seed Extract, Essential Oils:Lavandula Angustofolia (Lavender), MelissaOfficinalis (Melissa), Achillea Millefolium (Yarrow), Aniba Rosaeodora (Rosewood) Wood, Boswellia Carteri (Frankincense), Salvia Sclarea (Clary Sage), Pelargonium Graveolens (Geranium), Chamaemelum Nobile (Chamomile),Cymbopogon Martini (Palmarosa) Oil*, etc. *ORGANIC
*Disclaimer: LENUS Handcrafted products has not been evaluated by the Food and Drug Administration. Products are not intended to diagnose, treat, cure, prevent any disease or cure any serious skin condition.
**Precaution: Be sure you are not allergic to any bee ingredients prior to ordering products containing with raw honey or beeswax.
***Precaution: Some Products contains NUT carrier oils, please check Ingredient List before ordering.
Related products