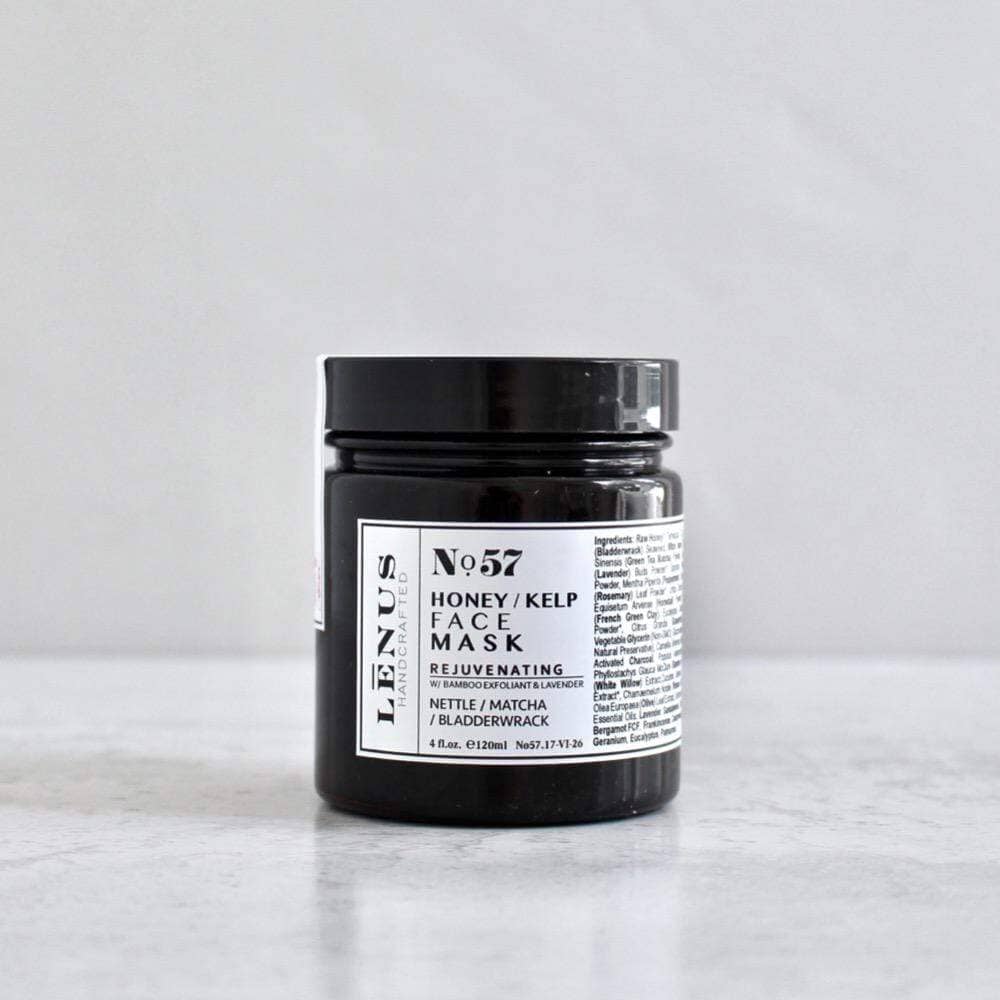 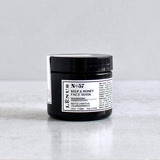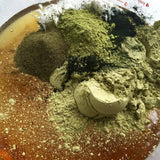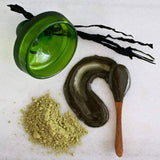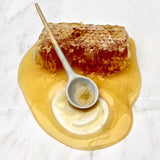 
Nọ 57 HONEY KELP FACE MASK | REJUVENATING
$ 38.00
LĒNUS Nọ57 Honey Kelp mask is a nourishing, toning and skin tightening product perfectly suited for all skin types. It is made with the purest raw, local, organic orange blossom honey, sea kelp, matcha tea, and herbs to gently detoxify and reduce irritation and redness. Mineral, vitamin and antioxidant rich, this complex sea kelp mask will become the new favorite in your skincare routine.

LĒNUS Nọ57 HONEY KELP FACE MASK
[ NETTLE / MATCHA / BLADDERWRACK ]

LOCAL RAW HONEY: The mask base is raw, clean, organic local honey from Southern California's Mikolich family owned hives. Honey is known to be full of anti-inflammatory and skin toning properties and historically used for skincare by various cultures.
Pamper your skin with this dark green mask to tighten pores and tone both gently and effectively. The mask base is raw, clean, organic local San Diego honey from a family owned hive. Honey is known to be full of anti-inflammatory and skin healing properties. Bioactive honey is blended with bladderwrack sea kelp powder, matcha tea, organic herbs and essential oils which when blended together effectively remove toxins and build-up from the skin's surface and create a natural healthy glow. Fine bamboo exfoliating powder and green french clay make this mask a multifunctional face treatment product. Face cleansing essential oils makes this formula a blissful aromatherapy experience. Massage the mask into the skin and scrub for a deeper cleanse before washing it off and enjoy clear and glowing skin!

PRODUCTS ATTRIBUTES:
• Fresh sea and lavender aroma
• Removes makeup and dirt build up naturally
• Tones, tightens and nourishes
• Reduces skin inflammation
• No synthetic ingredients or fillers
100% CLEAN PRODUCT:
NO Synthetic Preservatives
NO Harsh Chemicals
NO Synthetic Colors
NO Synthetic Fragrances
NO Sulfates
NO Mineral Oils
NO Petro-chemical
NO Animal testing

AROMATHERAPY BLEND: ANTI-INFLAMMATORY / DETOXIFYING / UPLIFTING
Bergamot | Eucalyptus | Sandalwood | Lavender | Palmarosa | Frankincense | Cypress | Orange | Benzoin | Geranium | Rosemary
SUGGESTED USE: Take a tablespoon of mask, warm it up between the palms and gently spread it over the face and neck in upward motion, massaging the skin. The mask base is raw honey, which is thick, therefore using a mask brush is not recommended. The mask layer should not be too thick. Wait for 20-40 minutes, then use some water to massage the face more removing the mask. Use a hot wash cloth to remove the mask for deeper cleanse. Alternatively, use a mask as a quick cleanser by rubbing a teaspoon over the face with some water and washing it off in the shower as a simple daily routine.
Key Ingredients:

Ingredient List:
RAW HONEY | Anti-Inflammatory, Anti-Bacterial, Pore-Cleansing
BLADDERWRACK KELP| Mineral & Vitamin Rich, Redness Relief
MATCHA | Anti-Oxidant, Inflammation & Redness Reducing, Toning
FRENCH GREEN CLAY | Mineral Rich, Nourishing, Detoxifying, Anti-Acne
BAMBOO EXFOLIANT | Mineral Rich, Non-Irritating Deep Exfoliant, Cleansing
SPIRULINA | Cleansing, Dark Circle Reducing, Anti-Bacterial, Anti-Acne
LAVENDER | Heal-All Oil, Anti-Acne, Cell-Repairing, Anti-Wrinkle, Soothing
NETTLE | Mineral Rich, Rejuvenating, Toning, Detoxifying, Cleansing
ROSEMARY | Anti-Bacterial, Skin-Healing, Anti-Septic, Anti-Acne
OLIVE LEAF | Anti-Aging, Anti-Oxidant, Anti-Microbial, Anti-Inflammatory
HORSETAIL | Pore-Minimizing, Anti-Aging, Anti-Acne, Strengthening
FRENCH GREEN CLAY | Gentle, Mineral Rich, Detoxifying, Anti-Acne
ACTIVATED CHARCOAL | Detoxifying, Purifying, Toxin Removing
GRAPEFRUIT SEED EXTRACT | Anti-Bacterial, Anti-Fungal, Vitamin C Rich
PEPPERMINT | Cooling, Anti-Infectious, Anti-Bacterial, Anti-Viral
PALMAROSA | Bactericide, Anti-Septic, Skin Tissue-Healing, Anti-Aging
BENZOIN | Disinfectant, Anti-Inflammatory, Relaxing, Astringent
BERGAMOT | Anti-Acne, Astringent, Anti-Infectious, Anti-Bacterial
EUCALYPTUS | Anti-Infectious, Skin Healing, Mental Stimulant, Stress Relief
FRANKINCENSE |Regenerating, Anti-Aging, Anti-Scarring, Skin Healing
GERANIUM | Sebum Balancing, Regenerating, Anti-Acne, Anti-Infectious
CYPRESS | Dark Spots Relief, Regenerating, Healing, Astringent, Clarifying
BERGAMOT | Anti-Acne, Astringent, Anti-Infectious, Anti-Bacterial
SANDALWOOD | Anti-Inflammatory, Scar Healing, Skin Toning, Anti-Aging
SWEET ORANGE | Anti-Inflammatory, Irritation Reducing, Anti-Acne

Raw Honey*, Fucus Vesiculosus (Bladderwrack), Camellia Sinensis (Green Tea Matcha) Powder, Urtica Dioica (Nettle) Powder*, Montmorillonite (French Green Clay), Spirulina Platensis (Spirulina) Powder, Plant Glycerin (Non-GMO), Lavandula Officinalis (Lavender) Bud Powder*, Equisetum Arvense (Horsetail) Powder*, Rosmarinus Officinalis (Rosemary) Leaf Powder*, Eucalyptus Globulus (Eucalyptus) Powder*, Mentha Piperita (Peppermint), Bambusa Arundinacea (Banslochan) Powder, Witch Hazel Distillate*, Bentonite Clay, Camellia Sinensis (Green Tea) Extr.*, Gluconolacctone SB (Eco-Cert Natural Preservative), Activated Bamboo Charcoal, Populus Adenopoda (Aspen) Bark, Chamaemelum Nobile (Roman Chamomile) Extr., Salix Alba (White Willow) Extr., Salvia Hispanica L (Chia) Seed Extract, Olea Europaea (Olive) Leaf Extr., Cucumis Sativus (Cucumber) Fruit Extr.*, Citrus Grandis (Grapefruit) Seed Extr., Essential Oils: Lavender, Sandalwood, Rosemary, Cedarwood, Bergamot, Yarrow, Tangerine, Frankincense, Rose Geranium, Eucalyptus, Palmarosa, etc. *ORGANIC
*Disclaimer: LENUS Handcrafted products has not been evaluated by the Food and Drug Administration. Products are not intended to diagnose, treat, cure, prevent any disease or cure any serious skin condition.
**Precaution: Be sure you are not allergic to any bee ingredients prior to ordering products containing with raw honey or beeswax.
***Precaution: Some Products contains NUT carrier oils, please check Ingredient List before ordering.
Related products