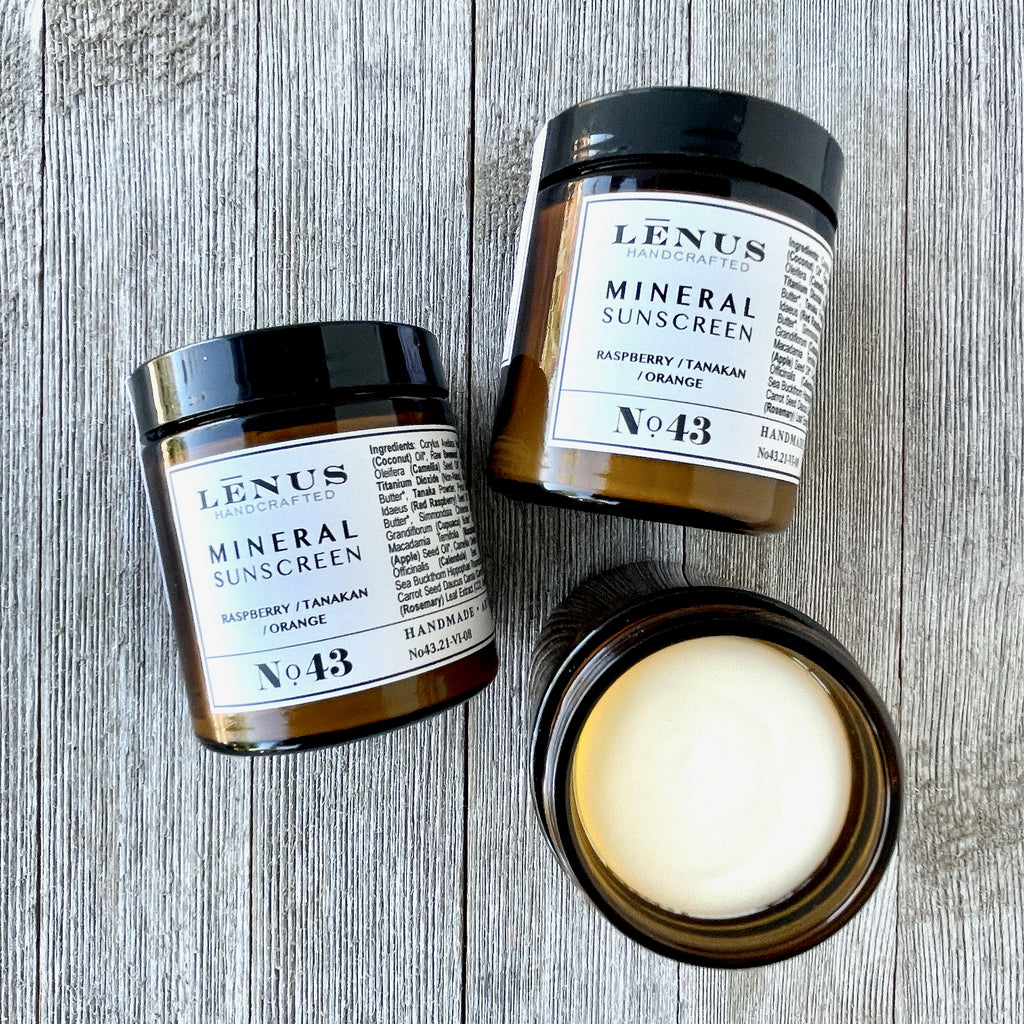 Nọ 43 MINERAL SUNSCREEN
$ 28.00
Effective and natural sunscreen that has a pleasantly sweet aroma and is waterproof. The base consists of finest carrier oils with high natural SPF like red raspberry and carrot seed are blended with sun protective Tanaka powder, Zinc Oxide and Titanium Dioxide (non-nano) to achieve natural sun protection. The blend of naturally sun protective oils and mineral powders makes this product the best natural mineral sunscreen for body and face for a sunny day out.
No43 MINERAL SUNSCREEN w/ CARROT SEED
[ Raspberry / Tanaka / Orange ]
4 oz Amber Glass Jar
Tanaka powder is a natural yellow tan color ingredient used in traditional South Asian cultures to create a sunblock paste. In this product is provides additional sun protection as well as makes the sunscreen blend in with the natural skin tone slightly better than traditional mineral sunscreens. LENUS sunscreen is enriched with botanical extracts to sooth the skin and reduce sun damage by nourishing it with phytochemicals, antioxidants and vitamins.
Apply it to skin to achieve a visibly light layer on the skin prior to sun exposure. The average SPF of ingredients is 26; this product is not lab tested; estimated SPF 20.
***BE SURE YOU ARE NOT ALLERGIC TO BEE PRODUCTS PRIOR TO ORDERING. DO TEST A PATCH ON THE ARM WITH RAW HONEY ***
INGREDIENTS SPF:

INGREDIENTS:
Red Raspberry Oil 30-50
Carrot Seed 30
Hazelnut Oil 20
Coconut Oil 10
Shea Butter 6
Mineral Powders SPF 17
Ingredients: Corylus Avellana (Hazel) Seed Oil*, Cocos Nucifera (Coconut) Oil*, Raw Beeswax*, Zinc Oxide (Non-Nano), Camellia Oleifera (Camellia) Seed Oil*, Citrus Sinensis (Orange) Butter*, Titanium Dioxide (Non-Nano), Butyrospermum Parkii (Shea) Fruit Butter*, Tanaka Powder, Pyrus Malus (Apple) Seed Oil*, Rubus Idaeus (Red Raspberry) Seed Oil*, Mangifera Indica (Mango) Seed Butter*, Simmondsia Chinensis (Jojoba) Seed Oil, Theobroma Grandiflorum (Cupuacu) Butter*, Citrus Sinensis (Orange) Butter*, Macadamia Ternifolia (Macadamia) Seed Oil*, Pyrus Malus (Apple) Seed Oil*, Camellia Oleifera (Camellia) Seed Oil*, Calendula Officinalis (Calendula) Seed Oil., Tocopherol (Vitamin-E), Sea Buckthorn Hippophae Rhamnoides (Sea Buckthorn) Fruit Ext., Carrot Seed Daucus Carota (Carrot Seed) Oil & Ext., Rosmarinus Officinalis (Rosemary) Leaf Ext. (CO2), Essential Oils *ORGANIC
*Disclaimer: LENUS Handcrafted products has not been evaluated by the Food and Drug Administration. Products are not intended to diagnose, treat, cure, prevent any disease or cure any serious skin condition.
**Precaution: Be sure you are not allergic to any bee ingredients prior to ordering products containing with raw honey or beeswax.
***Precaution: Some Products contains NUT carrier oils, please check Ingredient List before ordering.