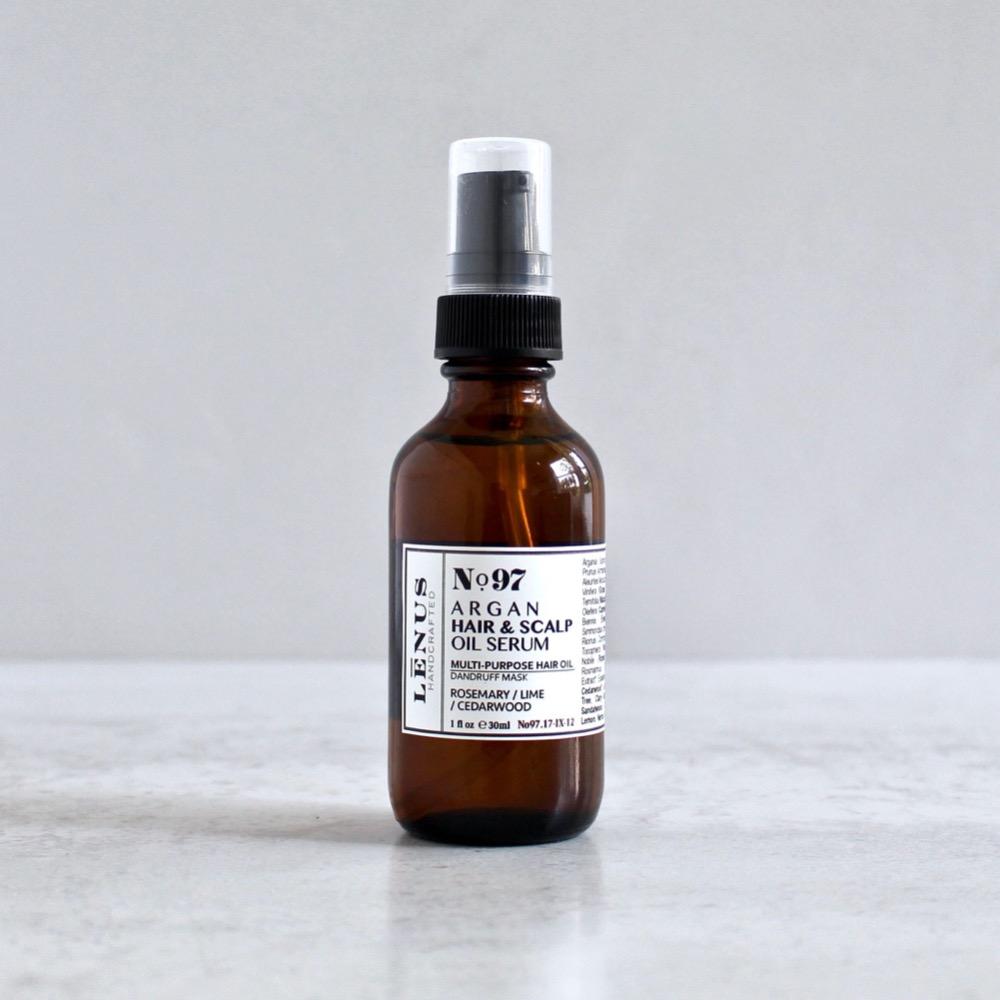 Nọ 97 HAIR OIL SERUM / SCALP MASK
$ 34.00
LĒNUS Nọ97 Hair Oil Serum is blend of cold pressed organic nourishing oils to support overall hair health. The Vitamin B + E enriched formula contains more that 50% luxurious organic argan oil. Use a few drops after shower to moisturize split ends or apply a teaspoon before nighttime as a hair mask treatment for healthier looking hair and scalp.

LĒNUS Nọ97 HAIR OIL SERUM / SCALP MASK
[ ROSEMARY | ARGAN | LIME ]

Organic cold pressed argan oil is used as a base for this exquisite serum, bended with vitamin rich kukui nut, regenerating macadamia, moisturizing apricot kernel and anti-inflammatory evening primrose, all the botanical oils used to moisturize and nourish human hair. Chamomile extract helps relief itchiness and irritated skin. Argan oil is well known luxury oil used to help moisturize hair and sooth skin conditions like rashes and eczema, due to its superior levels of carotenes, squalene, fatty acids and natural Vitamin E.

The complex essential oil blend is truly exquisite, formulated to relief a variety of issues related to hair-health such as, dryness, dandruff, itchy scalp, slow hair growth, dull hair, oily scalp and protection against lice. The blend includes powerful hair restoring, deodorizing, anti-ceptic essential oils all of which are known to relief a multitude of hair related issues. The blend is specifically formulated to support hair health, moisturize the ends, deodorize hair, relief dandruff as well as stimulated the roots to promote faster hair grow.

Essential oils like lavender, rosemary, tea tree, clary sage, lime and cedarwood relief itchy scalp and dryness, while balancing scalp's sebum production for less oily appearance. Rosemary and lavender are especially known helps stimulate hair roots for better hair growth. Cedarwood is wonderful essential oil used to enhances shine and revitalize the glow.
An impossibly fresh and spa like aroma is created by balancing deep rosemary and cedarwood with a touch of fresh exotic oils of lime, bergamot, grapefruit, neroli and vetiver.

PRODUCTS ATTRIBUTES:
✔ Nourishing, non-greasy
✔ Fit for all hair types
✔ Excellent hair health
✔ Luxurious fresh essential oil aroma
✔ Cold pressed unrefined botanical oils

AROMATHERAPY BLEND: ANTI-DANDRUFF / DEODORIZING
Rosemary | Lime | Cedarwood | Lavender | Bay Leaf | Tea Tree | Clary Sage | Vetiver | Juniper | Sandalwood | Cardamon | Bergamot | Lemon | Neroli | Grapefruit
SUGGESTED USE: After shower for long or medium length hair: apply 1 pump of oil on your palms, rub the oil really well to evenly distribute on the hair ends to moisturize.
Short Oily Hair: apply on the ends and scalp, massage well and wear the oil for an hour, then wash.
Hair dandruff mask: Apply a few pumps of oil on the scalp and hair massage it very well and wear for an hour before washing. Alternatively sleep with the mask for an extra deep nourishment and wash in the morning. Protect the pillow from oil with the towel or wear a head cover.
Key Ingredients:

Ingredient List:
ARGAN | Vitamin & Nutrient Rich, Anti-Aging, Moisturizing, Repairing

APRICOT KERNEL | Anti-Inflammatory, Anti-Aging, Moisturizing
EVENING PRIMROSE | Moisturizing, Nourishing, Anti-Inflammatory
MACADAMIA | Regenerating, Hydrating, Anti-Oxidant, Protecting
KUKUI NUT | Scalp Healing, Regenerating, Fast Absorbing, Fatty Acids
GRAPE SEED | Regenerating, Moisturizing, Vitamin Rich
CASTOR OIL | Shine Enhancing, Protecting, Anti-Inflammatory
JOJOBA | Penetrating, Moisturizing, Non-Comedogenic, Moisturizing
VITAMIN E | Anti-Oxidant, Skin Repairing, UV Protectant, Regenerating
CHAMOMILE | Anti-Inflammatory, Sebum Balancing, Dry Skin Relief
ROSEMARY | Anti-Infectious, Anti-Bacterial, Skin-Healing, Stimulating
LAVENDER | Lice Repellent, Root Stimulating, Dry Scalp / Dandruff Relief
CEDARWOOD | Dandruff / Itchiness Relief, Shine Enhancing
LIME | Anti-Septic, Bactericidal, Disinfectant, Deodorizing, Stress Relief
CLARY SAGE | Anti-Inflammatory, Dandruff / Itchiness Relief
TEA TREE | Anti-Acne, Anti-Bacterial, Anti-Viral, Healing, Stimulating
NEROLI | Antiseptic, Deodorizing, Anti-Bacterial, Deodorizing
BAY LEAF | Anti-Biotic, Anti-Septic, Skin Tonic, Skin Healing
JUNIPER | Detoxifying, Astringent, Circulation Stimulating
Argania Spinosa (Argan) Kernel Oil*, Prunus Armeniaca (Apricot) Kernel Oil*, Aleurites Moluccana (Kukui) Nut Oil*, Cannabis Sativa ( Hemp) Seed Oil, Vitis Vinifera (Grape) Seed Oil*, Macadamia Ternifolia (Macadamia) Seed Oil*, Adansonia Digitata (Baobab) Seed Oil*, Oenothera Biennis (Evening Primrose) Oil*, Simmondsia Chinensis (Jojoba) Seed Oil, Ricinus Communis (Castor) Seed Oil*, Tocopherol (Vitamin-E), D-panthenol (Vitamin B), Chamaemelum Nobile (Roman Chamomile) Extract, Hippophae Rhamnoides (Sea Buckthorn) Fruit Extract, Rosmarinus Officinalis (Rosemary) Extract*, Essential Oils: Rosemary, Lime, Cedarwood*, Lavender, Bay Leaf, Clary Sage, Vetiver*, Juniper, Sandalwood, Cardamon, Bergamot*, Lemongrass, Neroli*, Peppermint, Grapefruit, Lemon Myrtle* *ORGANIC
*Disclaimer: LENUS Handcrafted products has not been evaluated by the Food and Drug Administration. Products are not intended to diagnose, treat, cure, prevent any disease or cure any serious skin condition.
**Precaution: Be sure you are not allergic to any bee ingredients prior to ordering products containing with raw honey or beeswax.
***Precaution: Some Products contains NUT carrier oils, please check Ingredient List before ordering.